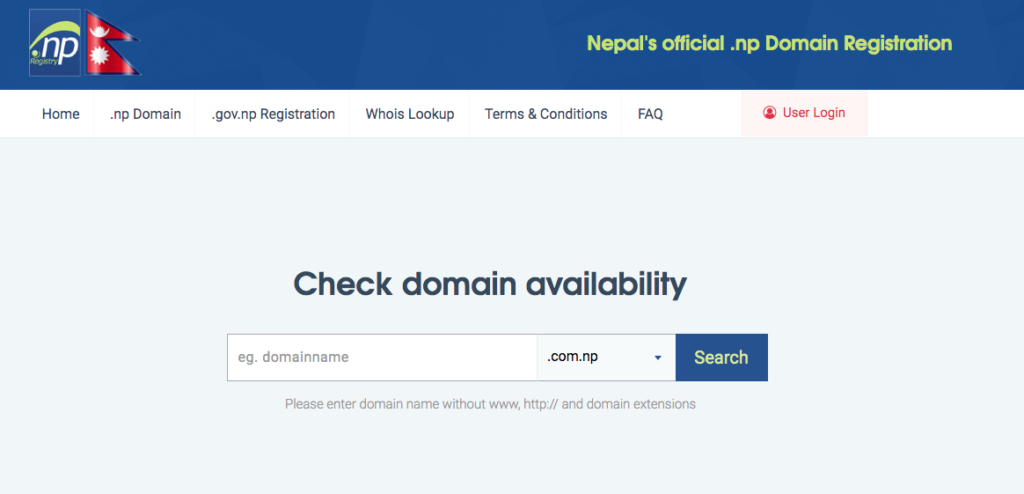 Are you searching to register a free domain in Nepal?
If yes, then we are here for your help. Digital Agency Nepal helps you to register .np domain names.
.np domain extension is country-specific Top Level Domain(ccTLD) and is free to register for individuals and businesses in Nepal. Therefore, anyone with a registered business or an individual with a Nepalese citizenship card can get a Domain name. However, those free domain names are served on a first-come, first get basis.
What is a domain name?
A domain name is an address you use to access a website, Web server, or other systems and is usually a string of characters. It is the specific web address that everyone sees when you type the URL into your browser.
Why do you need a domain registration?
If you ever wanted an online presence, you need a domain name. Businesses and Individuals register a domain for different reasons like brand awareness, customer retention Etc. Domain Name Registration also gives you complete control over your identity as well as your content. You own everything associated with your domain, including its WHOIS information.
You may have heard about websites like Google, Facebook, Twitter, Etc., but did you know they all started as simple text files stored on computers somewhere? These companies exist because someone decided to give them a "domain" so people could find them online.
A domain gives us a way to identify something uniquely without memorising long strings of numbers and letters. For example, if I wanted to go to www.google.com, my computer would automatically look up google.com and see where it was located by looking through its DNS records. If there were no records for google.com, it would try another one until it found one.
How does the .np domain work?
The .np domain works just like any other top-level domain except that it has been designed explicitly for Nepalese individuals and businesses.
What is the domain registration process for .np TLD?
To register a .np TLD domain free in Nepal, you need to visit "register.com.np". This is the only portal to register .np TLDs. Then, you can conduct a domain name search as per your requirement on the website.
The step by step process of free domain registration for .np TLDs :
1. Decide on the domain name
Before you register a domain, you need to decide on the perfect domain name.
If you are an individual, you can get a free Domain on your name or a surname based on the availability. However, since most of the domains on the surnames are taken, it would be hard to get one.
Also, if the domain name does not match the person's name, the chance of rejection is high. The same is applied to the business names too. However, with a proper explanation of the case, businesses can have different domain names based on the brands or names.
Terms and conditions for the free domain registration, i.e .np TLDs, can be found from the link:
https://register.com.np/registry-policy
2. Check Domain status
With a growing internet presence, the availability of common domain names is likely to be found less. Thus you can check the domain availability and domain status of the name you seek from the link:
https://register.com.np/whois-lookup
3. Get the Documents ready
Once you have checked the domain names and found one, you need to submit documents for an official request as per the need:
For individual domain registration:
Cover letter (Download Sample Cover Letter)
Hosting details (Domain Name servers)
Citizenship
For Business entities:
Cover letter (Download Sample Cover Letter)
Hosting details (Domain Name servers)
Tax Registration
Company Registration Certificate (Registration of Company)
4. Get hosting server ready
Unlike gTLDs, ccTLDs for .np registration, you need to get a DNS server beforehand. If you do not have server details (primary name server and secondary name server), you can have name servers provided by the Free DNS(Domain Name System) providers like Cloudflare.
Once you register an account with a free DNS service provider, they provide you with nameservers that you can use to register the domain. First, however, you need to know how to manage DNS from the DNS Control Panel.
5. Start Domain Registration Process
Once all the details, as mentioned earlier, are ready, you can proceed with free domain registration in Nepal for .np TLD. from the Domain Control Panel.
While registering, you need to fill the domain request form with Administrative Contact, Technical Contact details. Once the official filing of the form is completed, your application is sent to the authorised officer.
The hostmaster reviews your application. If the application is completed and follows the terms and conditions (https://register.com.np/terms-and-conditions), the domain is registered within three days, excluding public holidays. When the domain is successful, you get the domain ownership of the domain registered. In other words, you become the rightful owner of the domain unless contested for violation of trade name or copyright infringement.
However, if the hostmaster finds more details are required, the application is rejected, seeking additional documents. If you are confused about the details, you can get in touch via email or phone call from the Domain Registrar's website.
Once your domain is registered, you can manage the nameservers from the Admin Panel. Within the admin panel, you can modify the details as required.
Frequently Asked Questions about .np domain registration
1. Who registers .np Domain in Nepal?
Mercantile Communications Pvt. Ltd. (register.mos.com.np) is a domain registry for Nepal.
2. What is the domain price?
The.NP ccTLD is free to register.
3. What is the policy for .np registration?
The domain is registered on a first-come-first-served basis. However, specific terms and conditions apply when you register a domain.
4. What is the renewal fee for the domain?
The domain does not need to be renewed every year. However, for any modifications required, the domain registrant might request additional documents to verify the process.
5. Who can register the .np domain?
Local Entities (company/organisation), Nepalese citizens and Multinational companies who legally exists in Nepal can register .np TLDs.
6. What documents are required for .np domain registration?
In the case of local entities :
Certificate of registration of company/firm/partnership/organisation
In the case of foreign entities registered in Nepal :
Certificate of registration of branch or liaison office or
Certificate of affiliation with Social Welfare Council.
PAN registration certificate is required in the case of non-incorporated entities doing business in Nepal. They can be Permanent Establishments or Non-incorporated Joint Venture Entities.
In case of any entities (local or foreign)having business interests in Nepal:
Certificate of trademark registration in Nepal or Official filing receipt of trademark application issued by the Department of Industry (to be supported with actual trademark registration certificate within three years of domain registration)
7. How to register the .np domain for personal use?
NOTE: – A personal domain name should be based only on the applicant's name as mentioned in the below documents:-
Nepalese citizenship or passport or driving license or voter's card or
Non-Resident-Nepalese ID card or
Nepalese resident visa for foreign nationals
8. How to register .np Domain for Government organisation?
National Information Technology Center is in charge of the administrative process for the gov. np domain. For more information: www.nitc.gov.np
9. What is Administrative Contact detail?
Name, Company name, Address, Phone, Email address are included in the primary contact address of the domain owner. These details are Administrative Contact Details.
10. What is technical contact detail?
The person who maintains the domain is referred to as Technical Contact. Someone may use this space if they want an alternative contact address.
11. How many days does it take to register a .np Domain?
The number of domain registration backlogs can affect the time it takes to register. Sometimes it can take longer to register a domain because all documents need to be verified.